Hi my lovelies,
So it's another month and I have my list of the most lustworthy products I have has my eyes on again! It's pretty long, so get yourselves a snack, settle in and let's begin! I was all set to buy one of the Jeffree Star highlighters from my list last month, but they were so breakable that Cocktail Cosmetics (official UK stockist of Jeffree Star products) decided they were too fragile to ship :(. I did, however get a couple of his brand new liquid lipsticks, so look out for a post on those soon! Anyway, we have a whole new list of products to lust over, so here we go!
What have I been lusting over this month?
Becca X Jaclyn Hill Champagne Glow Face Palette
If you haven't heard of this by now, I reckon you've been living under a rock for the last few months. Cult brand Becca has teamed up with Youtube guru Jaclyn Hill for a new collection, this being the flagship product! This face palette is incredibly beautiful and features three blush shades and two highlighters! It's pretty difficult to get hold of here in the UK, but you can find it at Space NK for £48 (when it's in stock!)
Too Faced Sweethearts Blushes

I have heard such good things about these blushes!  These baked blushes from Too Faced come in a few different shades, but Sparkling Bellini (pictured) is definitely my favourite! The blushes are supposed to be super pigmented, buttery and brightening, which is right up my alley! Also, can we talk about how gorgeous this packaging is?
Anastasia Beverly Hills Modern Renaissance Palette
Another beautiful palette that every blogger seems to be raving about now is the new Anastasia palette: the Modern Renaissance palette. This is mostly neutral, but has some gorgeous warm berry tones and burgundy shades that set this apart from the rest. If you love warm toned shadows, this palette will be your new everyday best friend, and I'm completely obsessed with watching tutorials using this! You can find this at Cult Beauty for £41.
Tatcha Dewy Skin Mist
Why do I always seem to lust over the products Jeffree Star talks about more than other Youtubers? There's always that one thing in his videos that I'm like yes! I need that! and this time it's the Dewy Skin Mist from Tatcha. This is essentially a setting spray, but it's supposed to hydrate and give your skin a lovely glow while setting your makeup, which in an ideal world for me would be amazing! I'm not sure how my skin would go with this, as I'm combination but can be pretty oily at times, but I'm still lusting over this! This mist is $48 (ouch!) from the Tatcha website.
Clinique Turnround Overnight Revitalising Moisturiser
Now, as you will all probably know by now, Clinique is my absolute favourite beauty brand, and when I got a mini of this night cream in the summer gift, I couldn't wait to try it out! I've used almost half the mini pot of this now, and seriously want the full size, which is why it's on my list this month! This night cream makes my skin feel beautiful in the morning, I look more awake, and my skin looks brighter and clearer. I definitely have to get the full size of this! It's a bit of an investment, at £34 on the Clinique website.
Urban Decay Vice Lipsticks
Another massive launch recently is Urban Decay, who have
brought out the Vice collection of lippies, some of them existing shades repackaged and a lot of them new shades for us to obsess over in six different finishes. I think the new packaging looks super sleek and really brings the brand together by everything having the same packaging. My favourite part? There are 100 (yes, you heard me right), shades to pick from, and what could be a terribly sad bank account at the end! These are exclusive to the UD website right now, but will be rolled out to counters soon, and cost £15 each!
Sleek Whimsical Wonderland All The Fun Of The Fair Palette
I love me a great drugstore release and this is one of them! Sleek is one of my fave drugstore makeup brands lately, but I've never tried their eyeshadows! I was browsing through Boots and saw this new palette they had brought out, full of bright and pastelly colours and thought it would be just perfect for summer and to experiment with my eyeshadow looks! Sadly, it was not to be as they had none left, but there was a tester to swatch and these shadows were super soft and seriously pigmented, which is harder to do with paler shades. You also get 12 shadows for just £8.99, so I will definitely be picking one of these up when they're back in stock! You can get this from the Sleek website world wide, or in your local Boots!
Vans X Nintendo Shoes
The giant nerd in me resurfaces when I think about this launch. Growing up, I loved Nintendo video games, I had a gameboy colour and a GBA that I was obsessed with, and a Gamecube, too! So when Vans launched their new collab with Nintendo, I got super excited. There are Mario, Princess Peach, Zelda and Donkey Kong shoes, as well as some classic Nintendo styles, and they all say GAME OVER on the soles, which is super cute! You can check them out on the Vans website here!
Jump From Paper Handbags

Do you remember that photo that was floating around social media a while back of a girl that looked like her handbag was an actual cartoon? I finally found out that this brand Jump From Paper is behind it and their bags are amazing! Seriously, go check this out at JumpfromPaper or on  Asos! They're on the pricey side (around the £80-£100 mark), but perfect if you want something super individual and really special!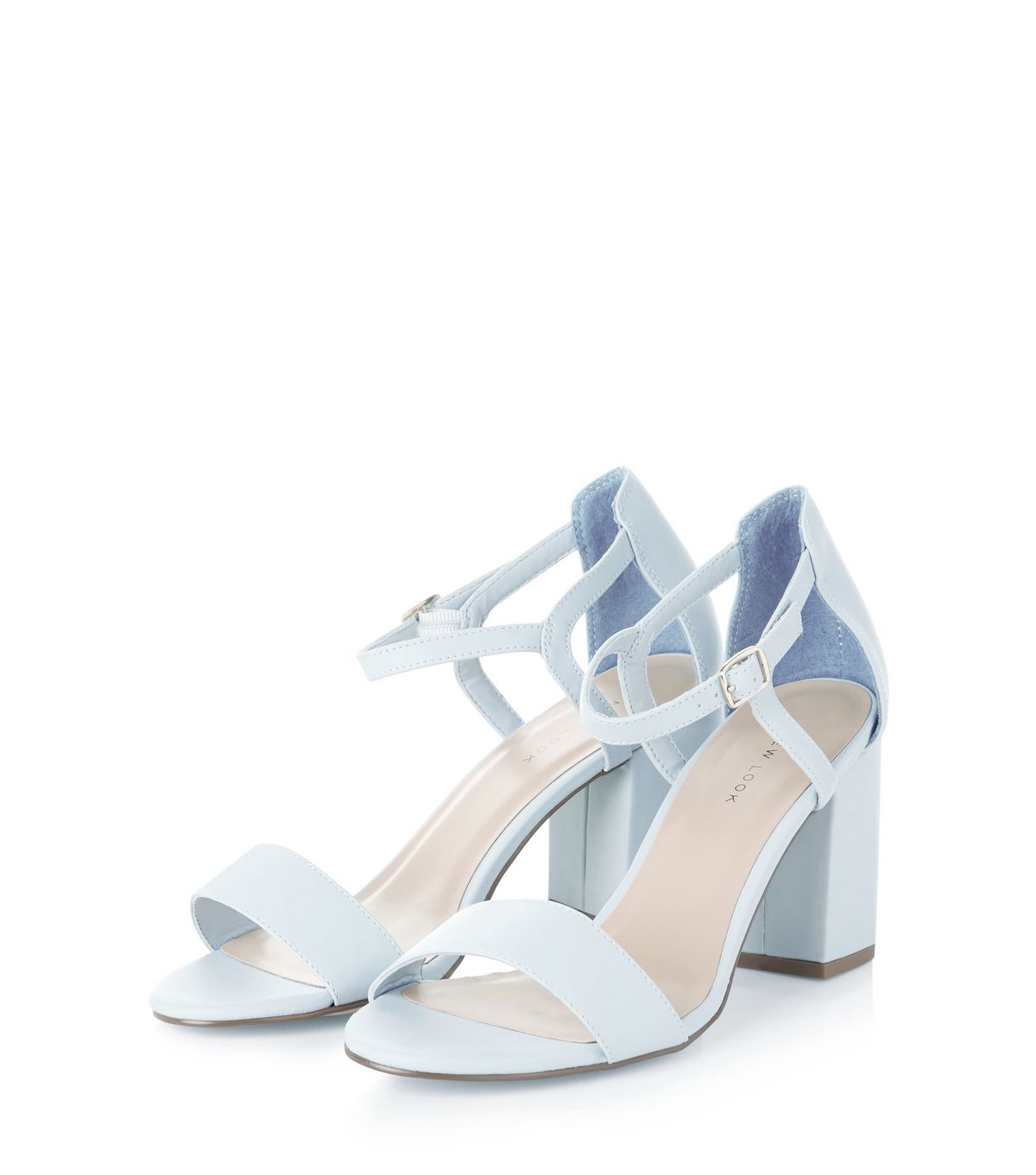 Comfort is really important to me when I'm picking out shoes, because I am terrible at walking in heels. I always love it when block heels come back into fashion as it means that I can wear a nice heel without them being uncomfortable or painful to walk in. There are some fab ones in New Look like these pastel blue sandals at £19.99 , or there are some great ones over at Asos too!
Gilmore Girls
Not really something new, but I have been obsessing over this show lately! Gilmore Girls is, and probably always will be my favourite TV show of all time. It's quick witted, funny, and incredibly well written (if we don't talk about the whole April thing, we're good.) This is on my lust list this month because I am super hyped up about the revival! It's nowhere near out yet, but I've already added this to my Netflix list so I know the exact minute it does! Please tell me you're all loving it too!
So that just about does it for my Lust List this month! What do you guys all think of this month's array of lustable things? Are you lusting over the same things as me or something completely different? Have you tried any of these before and what do you think of them? What are your faves from this list? Let me know down in the comments because I love talking to you about my obsessions!
Also, If there's one thing on this list you could have, what would it be? let me know and If I get enough comments I'll let you all know in the next post! Last month you were all loving the Mac Fix+ and the Smashbox Primer Water!
As always, please let me know what you think in the comments and anything you want to see from my blog because I really love you guy's input. Thank you guys for reading, and please don't forget to give this post a big like and a share if you enjoyed it, and I'll see you all very soon in the next post! Remember to click that lovely follow button to be updated about anything new from me!
More Posts from me:
Review: L'Oreal Cushion Foundation || Look Incredible Beauty Box – June 2016!Look Incredible Beauty Box – June 2016! || Mini Clinique Haul & Summer Gift! || Birchbox June 2016 – Sneak Peek! || 9 Essential Summer Beauty Tips! || May Favourites!|| The Best Beauty Blending Sponge?|| The Lust List: May 2016 || Review: Sleek Solstice Highlight Palette!
Find me on twitter || Subscribe on Youtube  || Follow on Instagram ||
You lovelies can also follow my blog with Bloglovin' – Check it out here! (Send me yours and I will follow you too!)
Ciao for now,