Hi my lovelies,
So today's post is all about Christmas! I know it's probably too early to start thinking about it yet – it's the first week in November after all! I have something super special to share this year as it's my first Christmas blogging: I've managed to get my hands on a coveted Selfridges beauty advent calendar!
Now technically this is a birthday present from my amazing mum as my birthday is the last day in november, but I would have bought this myself had it not been. I missed out last year on this, and really wanted to try it out for myself for 2016, and now I can!
I'm thinking about doing a day to day unboxing of my calendar during advent, or a post every few days about the goodies so far as I am going to try and take part in Blogmas this year (I don't know if I'll manage to post every day in the run up to Christmas, but I'll try!
Anyway, here's what the calendar looks like on the inside, and I seriously do not know how I'm going to stop myself from opening the windows before the day I'm supposed to, I want to know what's in there now! I already know the contents of course (they're on the back and there's a preview on the Selfridges website), but It's exciting to try and guess what's in each window for each day, and there are some amazing brands and products in here that makes this well worth it! I'm especially looking forward to the little perfumes in here as I'm on the lookout for a new signature scent, and I know for a fact that there are mini Viktor & Rolf fragrances in here, which I already love, as well as some Kiehls, Lancome, YSL, Urban Decay etc. – SO many great brands!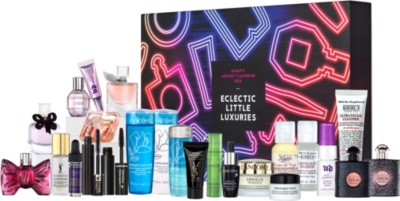 Sadly this is sold out, so you can't get it anymore, but there are lots of beauty advents out there if you're looking out for one! For more info on this, check out the Selfridges Website! 
Let me know if seeing what's in this day to day or a couple of times a week is something you guys would like to see – I'm certainly excited to share this with you! I'll probably post what I got along with a mini first impressions!
Also, have any of you lovelies got your hands on one of these this year, or any other beauty advent calendars – let me know down in the comments, I'm always curious about these types of advent calendar!
As always, please let me know what you think in the comments and anything you want to see from my blog because I really love you guy's input. Thank you guys for reading, and please don't forget to give this post a big like and a share if you enjoyed it, and I'll see you all very soon in the next post! Remember to click that lovely follow button to be updated about anything new from me!
More Posts from me:
Sneak Peek: Birchbox November 2016! || A Rather Successful TK Maxx Haul! || Ultimate Sephora Wishlist Tag! || Review: Perfect Pamper Box! || An Update on my Colourpop Haul! ||  Review: Jeffree Star Liquid Lipsticks in Mannequin and Rose Matter|| The Best Beauty Blending Sponge? ||
Find me on twitter || Subscribe on Youtube  || Follow on Instagram ||
You lovelies can also follow my blog with Bloglovin' – Check it out here! (Send me yours and I will follow you too!)
If you'd like to, send me an email over at jessica.purcell.1992@gmail.com and I'd love to chat with you about all things beauty!
Ciao for now,