Hi my lovelies!
So this is a brand new segment I'm thinking about doing for the blog every month if you guys like it and I get the chance! You may have also noticed that I changed my blog header, and my image font is slightly different – what do you think? It looks a little better, yeah?
I've decided to call it The Lust List, (if you follow me on twitter you might have seen me tweeting with hashtag #lustlist before), and It's going to be about all of the things I've been lusting over or seriously wanting to buy over the last few weeks (or months!). Many a time I've been told 'Jess, why don't you stop talking and talking about the thing and just go and get it!', so I wanted to share things I've really been wanting lately with you all!
Some of these are items to buy, or style inspirations, or maybe even just something I saw when browsing Instagram and really loved! Let me know if this style of post is something you like, because if you want to see more of these every month, I'll continue writing them!
So What have I been lusting over this month?
Jeffree Star Liquid Lipsticks
These are meant to be the most amazing liquid lipstick ever, and there are such an amazing range of colours, but they're SO hard to get hold of over here in blighty! I've seen a few going on Ebay, but i'm always really wary of buying makeup from Ebay. I'll get one eventually! (Until I do, my Sleek one is really quite good)
I just really love the look of this jewellery! It's not too polished or refined, and looks really natural because you're getting the irregularity of the whole gemstones! There's quite a few on Etsy if you're interested in looking at them! As these are the raw stones, only refined a little and then set, each one is completely one of a kind too, which makes me really happy! I think I'll definitely be getting some of this soon!
Spectrum Marble Collection makeup brushes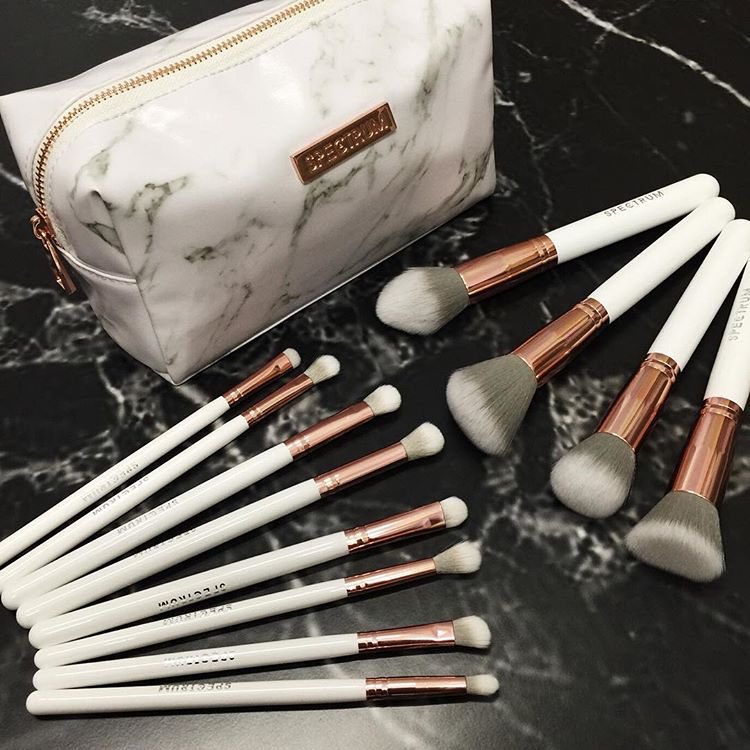 Can we just sit down and take a look at how gorgeous these brushes are? I got a Spectrum powder brush in my Birchbox last month, and they're a brand that I'd been wanting to try for a long time before that! They go on sale on the 24th of March, and I may be treating myself to these on payday!
Urban Decay Naked Skin Colour Correctors
I'm really into colour correcting at the moment, I have a little problem with redness on my face, so i'll take all the redness correctors that I can! These are Urban Decay's new launch of concealer style colour correctors, and if their eyeshadow palettes are anything to go by, these should be great! They're out in the states, but not over here yet.
These Irregular choice X Alice in Wonderland shoes
I may be the biggest addict of Alice In Wonderland related things in the world! (If you want to see a post about my Alice addiction, let me know!), so these shoes pluck at every heartstring I have. The little door on the left shoe even opens and theres a Cheshire Cat behind it! I love Irregular Choice shoes and own a few pairs myself. If you love something that's a little bit quirky and unique, check out their website HERE, because their shoes are seriously gorgeous! The only thing that's stopping me from buying these is the price. They're £110, which basically blows the budget for me! A girl can dream…right?
Pastel hair!! (my most visited instagram tag)
I've not been able to put any colour on my hair for such a long time as a previous hairdresser of mine ruined my scalp with bleach back when I was blonde (Long story short I was gradually going blonde with lots of highlights and topping them up every so often. I went to get my roots done, discovered my normal hairstylist had left, and her replacement either mixed the bleach too strong or left it on way too long. This was around five years ago and my scalp is only just getting back to normal!), and these sort of dip dyed pastel looks are really cute! I'm thinking of maybe getting purple put in my hair like the bottom right pic!
Too Faced melted lipsticks
Too Faced is another brand that I love and these have great reviews so far! A twist on liquid lipstick, these give the amazing pigment of a liquid lippy, with the staying power of a stain! The colour range is gorgeous, full of reds, pinks, purples and nudes, and I really want to give these a try!
Nautical/Riviera (Style lust)
I can't wait every year for late spring/summer because this is one of my fave styles to wear! I love the look of navy and white together, and I think the whole looks are really chic and stylish! I just bought a navy skirt from New Look (see my manchester haul) and a white stripey tee that would look fab together! (I had to put the anchor cardigan in too, because that's one that I actually own! I may/may not do a full post on this as I spend a while getting those pics together for the image!
Does anyone else love these too? I love anything star patterned, and I think these ones are really cute! I'm having trouble finding one I like at a decent price, though. The only ones I seem to find I want are super expensive! Anyway, I really love the clean, non intricate look of these lamps. Simple, but elegant!
So what do you guys think? Are you lusting over/loving the same things as me? Do you think i'm a little insane? Let me know your opinions of these because I have serious love for them all! Any advice for me on where to find affordable but cute gemstone jewellery or ah-mazing plus(ish) sized Riviera style fashion? If you find anything you think I'll like or fancy sending me some hair inspo, please let me know on twitter! (link below)
Also, if you could pick one thing from my Lust List this month to have, which would it be? I'm really interested in which one you guys love the most! (If I get enough responses, I'll tell you the results in the next post!) It may even help me choose which of these to get!
Remember to click that lovely follow button to get notified of any new posts from me, and give this one a like and a share if you enjoyed it!
More Posts from me: Unxboxing: Look Incredible Beauty Box – March 2016   Review: Clinique Chubby Stick Highlighter! || Birchbox March 2016 – Sneak Peek! || February Beauty Faves and Fails ||20 Beauty Blog Post Ideas to Combat Writer's Block! ||
Find me on twitter || Subscribe on Youtube  || Follow on Instagram ||
Big news! You lovelies can now follow my blog with Bloglovin' – Check it out here! (Also send me yours and I will follow you also!)
Ciao for now,